PTE Describe Image can be a daunting task as there is too much information to comprehend in limited time. The test is not designed to speak about all the details, you just need to explain key information from the image. Keep in mind these three things:
The purpose of "Describe Image" section is to assess your speaking skills. An image containing a picture, map, chart, graph or table is visible for 25 seconds. In that time you have to briefly study the image. On hearing starting tone, begin describing the image in the 40 seconds time allotted to you for the response.
Correct use of grammar and vocabulary is the 2nd most important thing for this section. Speak at a natural pace and use correct pronunciation.
Organize your answer logically and in a structured manner. Your description should be simple and precise. You can follow the below given template.
RELATED LINKS:
PTE Describe Image (Bar Diagram) – Model Answer
PTE Describe Image (Pie Chart) – Model Answer
Describe Image Template:
The following format has helped many students to score higher in Describe Image. Check it out:
Introduction + background sentence + point 1 + point 2  + conclusion
Sample: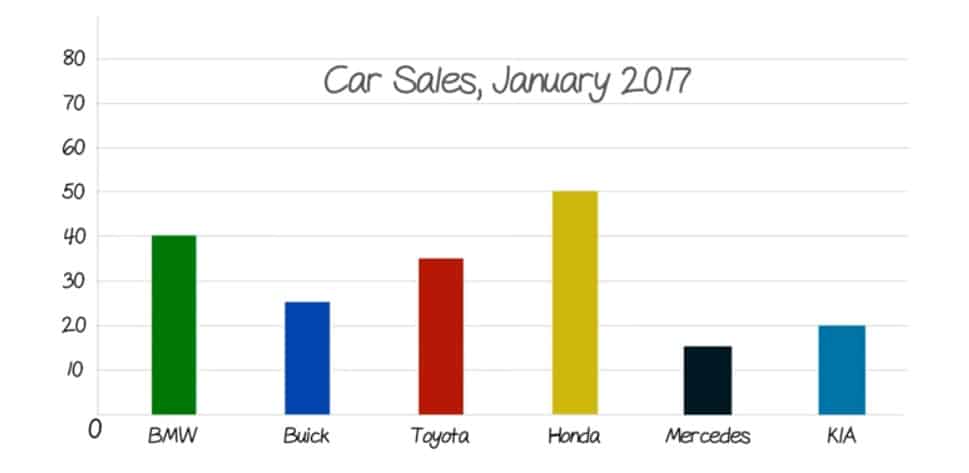 Model Answer (Given by Effekt Media):
This bar chart illustrates the number of cars sold in the month of January 2017 (introduction). This bar chart shows 6 types of brands sold during the month indicated by range of colors (background sentence). The highest number of units sold is for brand Honda which amounted to 50 units followed by BMW, 40 units (point 1). Interestingly, Mercedes has the lowest amount of sales in comparison to other brand which was about 15 units (point 2). We may assume that Honda is the most popular brand, however considering the sale of BMW and Mercedes, we can say more than 50% of the region are from upper middle-class (conclusion). 
How PTE Describe Image Is Scored:
| MARKS | CONTENT |
| --- | --- |
| 5 | Describes all elements of the image and their relationships, possible development and conclusion or implications |
| 4 | Describes all the key elements of the image and their relations, referring to their implications or conclusions |
| 3 | Deals with most key elements of the image and refers to their implications or conclusions |
| 2 | Deals with only one key element in the image and refers to an implication or conclusion. Shows basic understanding of several core elements of the image |
| 1 | Describes some basic elements of the image, but does not make clear their interrelations or implications |
| 0 | Mentions some disjointed elements of the presentation |
Key Type Of Images:
Graph (Bar Graph, Line Graph)
Map
Chart (Pie Chart, Flow Chart)
Table
Venn Diagram
Vocabulary
| Starting | Presentation Type | Verb | Description |
| --- | --- | --- | --- |
| The given / The supplied / The presented / The shown / The provided | diagram / table / figure / illustration / graph / figure / chart / flow chart / picture/ presentation/ pie chart / bar graph/ line graph / table data/ data / information | shows / represents / depicts / illustrates / presents/ gives / provides / describes / compares/ shows / figures / gives data on / gives information on/ presents information about/ shows data about | the comparison of / the differences / the number of / information on / data on / the proportion of / the amount of  / information on…. |