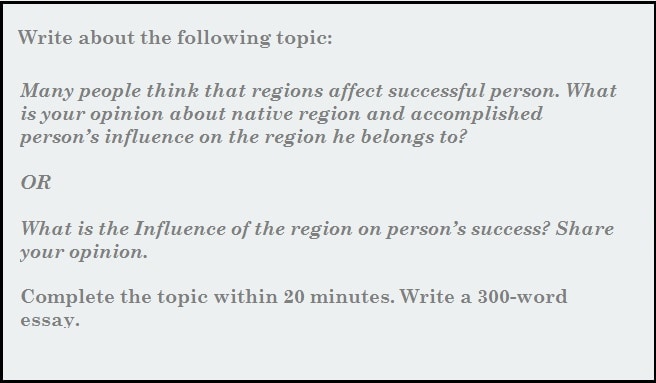 MODEL ANSWER:
Many people are of opinion that region plays a prime factor in a person's success. In my opinion success not only depends on the environment or the native place to which the person belongs but it is also dependent upon the effort one puts in to achieve the success. In this article, I will further explain my view with valid examples.
Often one's native place lacks basic facilities but a person acquires leadership qualities and determination to become a successful person in one's life from his native place only. The behavior of family members, neighbors, friends, classmates, roommates or teachers defines the overall personality and trait of a person. The people with which you spend your entire childhood plays an important role in achieving your dreams but to learn new things and acquire essential skills that are required to bag good opportunities one needs to move out his native place.
However, it is not only native environment that plays the important role in individual success. After an individual move out from his native place, he learns new things & meets new people. Meeting new people expand one's horizon and perspective that helps the person to think beyond one's abilities and work towards their dreams. For example – Barack Obama, 44th President of the United States achieved all his success after leaving his native place. New places helped him learn new skills and opened "an ocean of opportunities".
To conclude, the only native environment may not be behind an individual's success. There are a lot of other factors that take an individual towards success.
To Stay Connected, like Us On Facebook.