Just like any other PTE Speaking item, Retell Lecture scores depends upon
Oral Fluency
Pronunciation
Content
In my previous post, I have already explained how oral fluency and pronunciation effects your score. If you haven't read my post, read here – Oral Fluency & Pronunciation Scoring Criteria.
In this post, I will cover following things:
PTE retell lecture scoring guide
How to take notes
Templates
Tips & Tricks
Before learning how to make notes, let's first see how content is scored in Retell Lecture: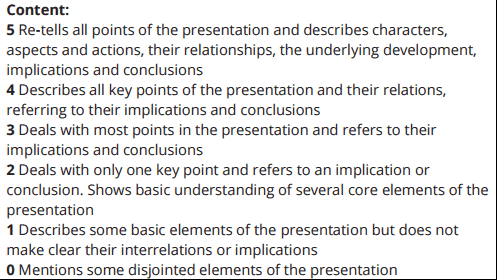 How To Make notes faster:
Listen to the lecture carefully
Identify the key points – don't try to write down the whole lecture
Make a flow chart
Use abbreviations & sign language where ever possible
Let me explain this to you with the help of an example: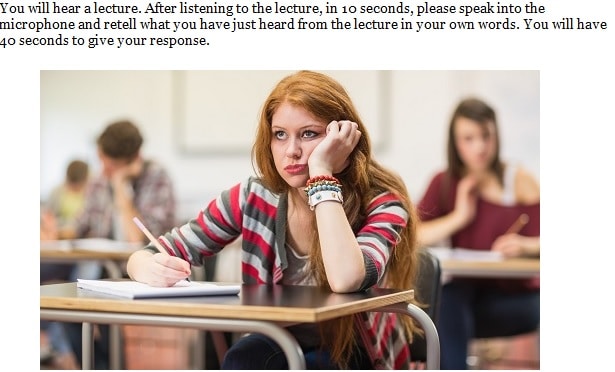 Transcript:
In a learning environment, a common cause of boredom is lack of understanding; for instance, if one is not following or connecting to the material in a class or lecture, it will usually seem boring. Click here to read full transcript
However, the opposite can also be true; something that is too easily understood, simple or transparent, can also be boring. Boredom is often inversely related to learning, and in school, it may be a sign that a student is not challenged enough, or too challenged. An activity that is predictable to the students is likely to bore them. Boredom has been studied as being related to drug abuse among teens. Boredom has been proposed as a cause of pathological gambling behaviour. A study found results consistent with the hypothesis that pathological gamblers seek stimulation to avoid states of boredom and depression. It has been suggested that boredom has an evolutionary basis that encourages humans to seek out new challenges. It may influence human learning and ingenuity. Some recent studies have suggested that boredom may have some positive effects. A low-stimulus environment may lead to increased creativity. 
Check out the notes that I have made: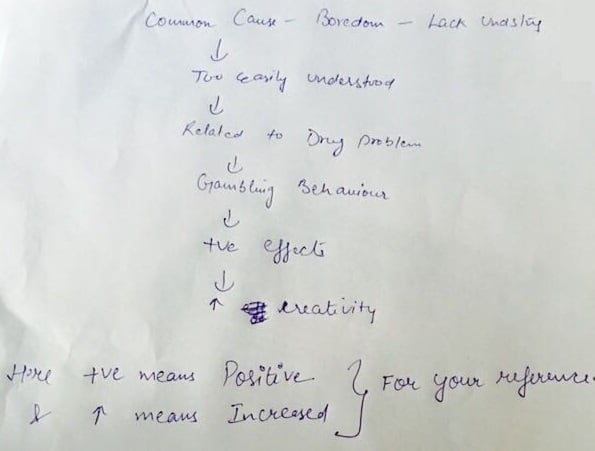 Well, I apologise for the handwriting. You may or may not understand it, but it works well for me. I have also used some signs & at the end, I have also explained those signs just for you.
Now that we have got the notes, let's try to convert notes into the lecture.
Now listen to the above lecture again and try to take your notes.
Re-Tell Lecture Template
Introduce the theme: The lecturer talks about boredom, its causes and effects.
Kew point 1: The author thinks boredom can be experienced if a student finds a class too easy or too difficult.
Key point 2: Boredom has been found as the reason behind gambling and drug abuse.
Conclusion: However, boredom also has some positive effects such as increased creativity.
I have few more templates you can use to construct your answer:
Template #1: The speaker provides the brief information about __________. First of all, ______________. Secondally ___________. Ina nutshell, ____________.
Template #2:  The lecture describes the information about ___________. Te begin with, ____________. Inaddition to this. ___________. Lastly, ____________. To conclude, ___________.
Tips & Tricks To Score Higher In Retell Lecture:
Make notes – very important
Don't write whole sentences
Make a flowchart
Be careful with the tenses
Speak for more than 35 seconds.
If any need any help, let me know through comments: