Both International English Language Testing System (IELTS) and Pearson Test of English (PTE) are the language tests with their own set of benefits as well as drawbacks. If you also find yourself stuck between deciding which test you should take, then we have made a list of some important differences between both these tests. By the time you reach the end of the article, you will be able to get a clear picture of which test is the best for you.
PTE VS IELTS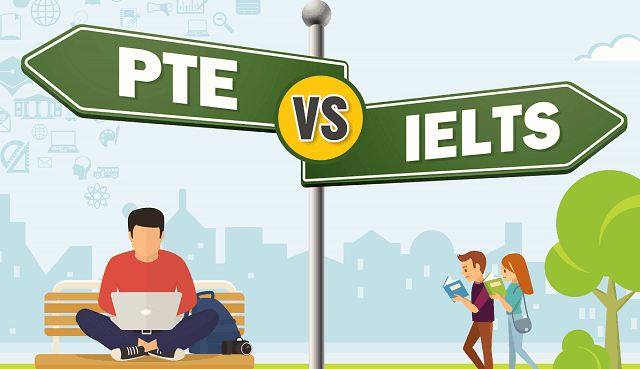 PTE is a computer-based test, while IELTS is a conventional test, which involves pen-paper based assessment. No doubt PTE and IELTS have same modules – listening, writing, reading, speaking but in PTE all these modules are tested on the computer and in case of IELTS three modules are in a written format and speaking is a one-to-one interview.
PTE test can be completed in one sitting of approximately 3 hours and in case of IELTS; Listening, Writing and Reading are conducted in a single seating of 2 hours and 45 minutes and the Speaking test is conducted on a separate (sometimes same) day, which consumes additional time ranging from 11 to 20 minutes.
Total Number of Questions
In PTE, there are 71 questions. IELTS has 40 questions of Reading, 40 questions of Listening, 2 questions of Writing (Task 1 and Task 2) and 15 to 25 questions of Speaking (including Part 1, 2 and 3).
Read more: Do You Really Understand? Oral Fluency & Pronunciation Scoring Criteria
PTE tests are conducted 6 days a week, whereas there is only one IELTS test in a week.
Once you have taken the test, you get your PTE score within next 5 business days. On the contrary, the waiting period is 13 calendar days in case of IELTS.
Both tests' scores are valid for a period of 2 years.
So far, PTE has approximately 200 test centres in nearly 50 nations. IELTS has above 500 test centres in 135+ countries.
PTE test scores are accepted in 1800 programs in 720 institutions, which include Harvard as well. IELTS, being a giant in this game, is accepted by more than 6000 institutions in above 135 nations.
In both tests, you are marked individually (out of 90 in case of PTE and 9 bands in case of PTE) for Listening, Reading, Writing, Speaking module and then the average score is calculated. However, PTE score of 58+, which is very easy to score, becomes equivalent to 6.5 bands in IELTS.
So which one are you going to take?
Recommended Lessons: