Writing is said to be the hardest of all the four PTE skills to master. This is not because it is more difficult than the other skills, but because students do not get good feedback.
PTE Academic Exam offers a unique correction service that helps students improve their PTE skills and produce better essays. We will check your writing and give you feedback on errors and ways to improve your writing.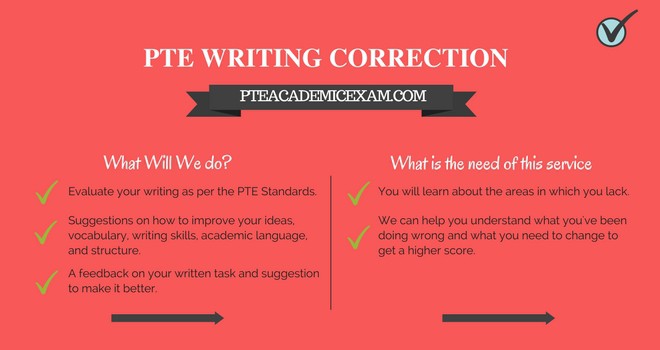 What Will We do?
We will evaluate your writing as per the PTE Standards.
We will correct and point-out your English errors and include explanations of the main problems
Suggestions on how to improve your ideas, vocabulary, writing skills, academic language, and structure.
Feedback on your written task and suggestion to make it better.
What is the need for this service?
There is no way you can assess your writing. You can read the tips, follow the guidelines, do your best, but to make fast and reliable progress you must have someone else to look through your work, point out mistakes and make suggestions for improvement.
And the only way to discover where your mistakes and where you lose points is to get feedback on your essays.
This way you start a positive cycle of improvement.
Can I see a sample of a correction?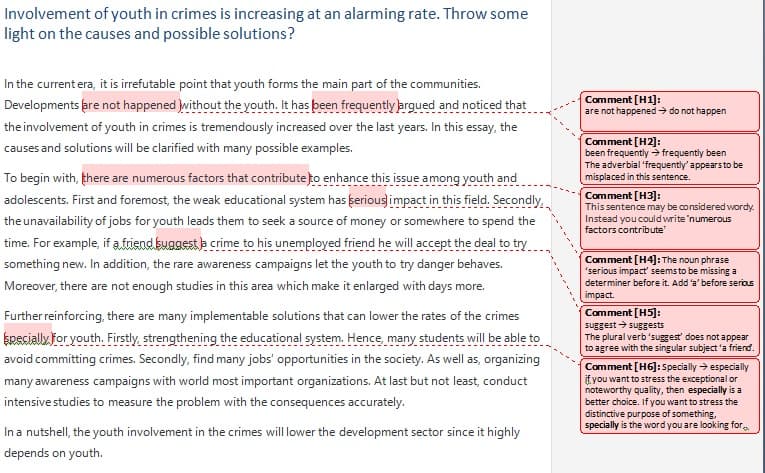 Report
Good length – 249 words [Permissible limit is between 200 – 300 words]
No. of Paragraphs – 4 [Good]
You have addressed the requirements of the task well, but you often make grammar mistakes.
You use simple vocabulary, but there are repetitions. Repeated words are – main, try, Youth, important. Try to avoid repetitions.
The answer would have been better if the ideas were more developed with explanations.
Essay Structure
Introduction – Your introduction seems complete. You have written the required points.
Body Paragraphs – Though it covers causes and solutions, the answer would have been better if the ideas were more developed with explanations.
Conclusion – Try to include one future recommendation with the conclusion.
Scoring
Content: 2/3
Form: 2/2
Development, structure, and coherence: 1/2
Grammar: 1/2
General linguistic range: 1/2
Vocabulary range: 1/2
Spelling: 2/2
100% Money-back Satisfaction Guarantee
If you aren't delighted with your writing correction, just send us an email, and we'll refund your money.
In case of any other query, let me know through comments.